The CV is dead, long live the CV
The CV is a central institution in today's labour markets and we set out to re-invent it. SkillLab is about to launch a new CV generator that is the best possible advocate for the job seeker. Read more to see how we did it:
The CV is a central institution in today's labour markets. The format has matured to a point where applicant tracking systems (ATS) automatically parse its contents, create structured data for employers and make automatic decisions on candidates' eligibility for interviews. At the same time, hiring conversations are increasingly shifting towards a focus on skills rather than the conventional signals for good matches with a job. An increasing number of job seekers cannot rely on a pristine, gapless, professional past the brands of companies they worked for or a strong professional network. These job seekers are in need of new solutions that highlight their unique skill sets within platforms and frameworks that employers are familiar with: The CV.
SkillLab's radical new way of skill-based career orientation and support goes beyond the creation of a holistic skill profile and the accompanying career advice but now extends to job application support. Job seekers receive guidance on how to create the best possible CV for themselves. The resulting CV highlights skills, knowledge domains and soft skills that are relevant to the job they apply for. The CV boasts a number of features that allow for easy customization and targeted highlighting of skills so that automatic keyword parsers recognize the job seekers valuable skill set. A SkillLab CV aims to be the best possible advocate for the job seeker.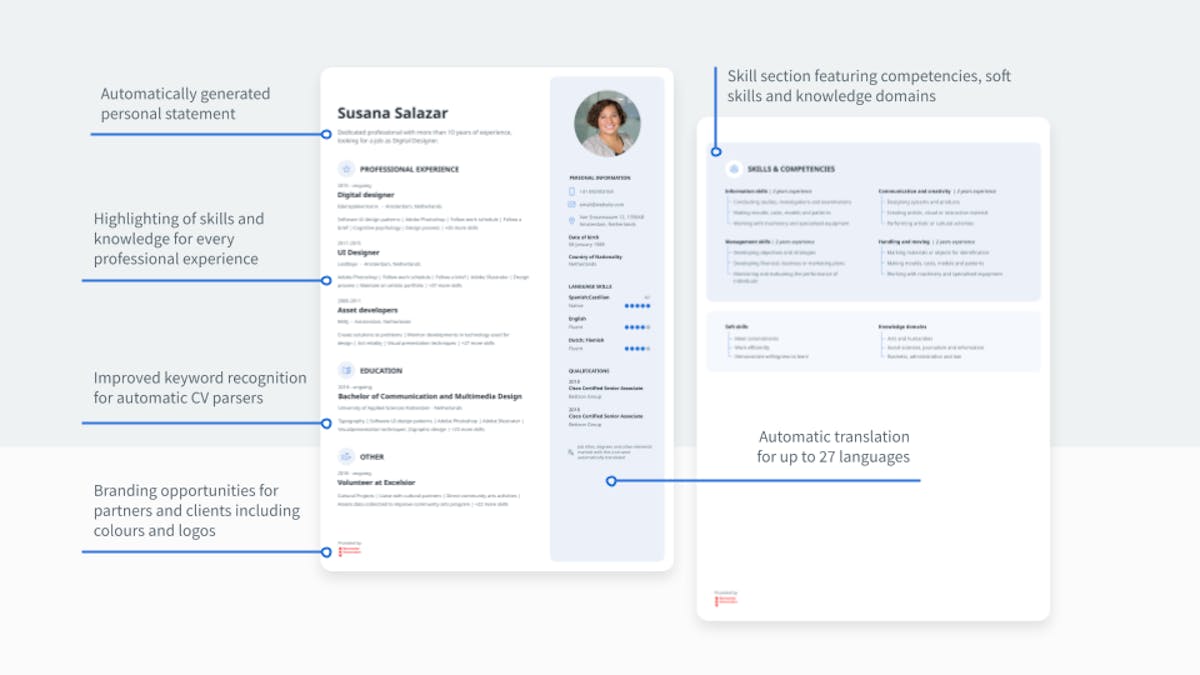 Full guidance during the CV creation process
Automatically generated personal statement
Uniquely tailored for each job
Highlighting of skills and knowledge for every professional experience
Language skills
Customizable layout options
Skill section featuring hard and soft skills as well as key knowledge domains
Improved keyword recognition for automatic CV parsers
Automatic translation for up to 27 languages
Branding opportunities for partners and clients including colours and logos
Our role is to be a champion for job seekers. We do this by generating a CV that tells the story: "This is how my life prepared me for the job you are offering"
Ulrich Scharf, Managing Director SkillLab
The CV will continue to be a key currency for job seekers world-wide in their quest for the next job. With SkillLab's skill-based CV those job seekers will receive the best possible version of that currency to make their next steps with confidence.